Unilumin recently uncovered its new generation Ustorm series outdoor advertising product, which features waterproof, front service and super slim design.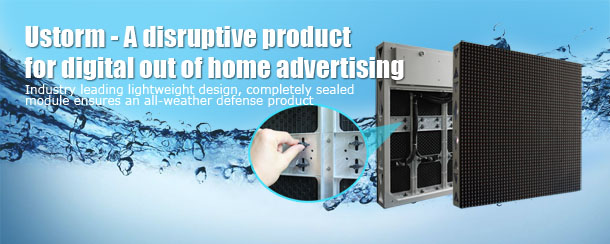 Key Features
1. Completely sealed module design, All-weather & UV-resistant Outdoor LED display, guaranteed reliability under the toughest operation conditions
2. High reliability, excellent circuit design, no fans, lower power consumption
3. Easy to maintain, offering front and rear access for easy maintenance
4. Comprehensive production line, offer varieties of pitch choices for customers. Furthermore, the cabinet can be used for varied pixel pitch products.
5.Delicated image, wide horizon viewing angle at 140 degree to provide better viewing experience with optimal refresh rate (2000Hz), high grey level (14 bits) and high contrast ratio (2000:1)
6. Lightweight design with cabinet thickness of 100mm, weight of 31.25KG/SQM, these features help you save the cost of transportation as well as the cost of installation.
"The brand new Ustorm product can be an alternative for traditional billboard without changing supporting frames thanks to its super light-weight design, this is amazing for advertising companies who tend to change static billboard to LED billboard. Plus the waterproof module makes it an idea product for coastal areas and heavily rainy areas. " Says Vincent Ma, General Manger of Unilumin Group.