Since the outbreak of COVID-19, Unilumin has established an emergency center and initiated an emergency plan to take essential measures to protect its staff. Facing the surging suspected and confirmed cases as well as the extreme shortage of medical supplies in China, Unilumin has taken an initiative to perform social responsibilities and assisted the epidemic areas to cope with the epidemic with a CNY 5 million (USD 714,051) donation and the supply of daily necessities, helping relieve the pressure at the forefront.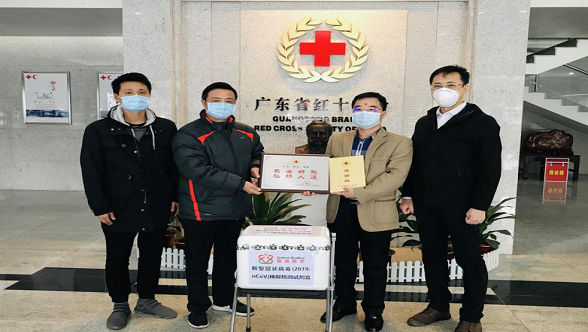 One of the Unilumin Teams donating Nucleic Acid Test Kit to Guangdong Branch Red Cross Socirty of China
At the same time, Unilumin has also provided very important LED technology support by donating many all-in-one conferencing LED screens and Unilumin Smart Conferencing System to hospitals and anti-epidemic medical units to assist in the work of epidemic prevention and control such as remote diagnosis and multi-party medical video conferencing. While enhancing medical units' work efficiency on epidemic prevention and control, the move can also avoid wider spread of the coronavirus disease through travel, meetings, and crowds.
Smart Conferencing System
Unilumin Smart Conferencing System is a complete solution based on the Unilumin all-in-one conferencing LED screen. Featuring a modern conference that requires a lot on the light environment, immersive experience, information sharing and multi-party communications, the system can realize many high-tech functions such as face check-in, intelligent writing, synchronized marking, split-screen display, multi-screen interaction. With Unilumin Smart Conferencing System, geographically dispersed teams can easily connect and start a video conference for work or business collaboration, which can effectively reduce the possibility of virus transmission under the current evolving situation on coronavirus.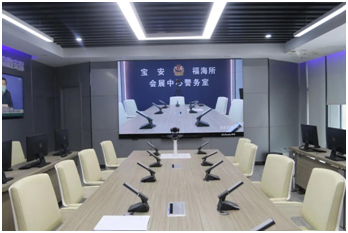 136'' UTVIII All-In-One Conferencing LED TV, Fuhai Police Station, Shenzhen, China
After the epidemic broke out, Unilumin immediately dispatched a team to different cities in China, including Beijing, Guangzhou, Shenzhen, Yinchuan, Shenyang and Dalian and worked overtime to provide 24-hour technical support on Unilumin smart conferencing screens and its visualization software systems used by many anti-epidemic medical units such as General Headquarters of Epidemic Prevention and Control of the State Council, local governments, and commanding centers of epidemic prevention and control. The delegations have been important to guarantee the comprehensive and dynamic information display of the current coronavirus situation and assist in unified command and precise dispatch on epidemic prevention and control.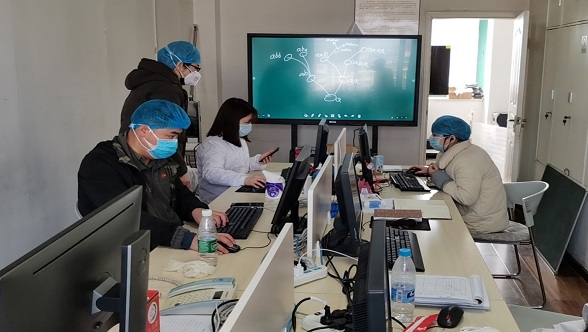 Staff in Third Hospital of Wuhan using a Unilumin Smart Conferencing Screen in a medical meeting
Emergency Rescue Visualization System
The Emergency Rescue Visualization System independently developed by Unilumin is based on Unilumin professional LED display screen system. By incorporating big data and basic information of the emergency rescue commanding center, the solution can realize functions such as commanding early alerts, daily rescue, multi-system integration and multi-screen synergy and make the LED display screen a combat-supporting platform integrated with the display of command, dispatch and other kinds of information.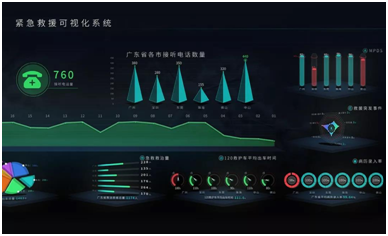 UI of Unilumin's Emergency Rescue Visualization System
By collecting epidemic data about national epidemic tendency from various channels and utilizing solid R&D capabilities in LED full-color display, Unilumin has developed a high-resolution data visualization solution that can be applied to national epidemic prevention and control. The solution specializes in data visualization and can provide timely visualized analysis of epidemic tendency to epidemic prevention and control centers to help combat the virus.
Through real-time collection, analysis and integration of epidemic data, the solution can invoke business information in a rapid, precise and visualized way and realize comprehensive monitoring management over the epidemic and aid to the decision-making of senior management. It is suitable for two core application scenarios, i.e. keeping abreast of the epidemic tendency and joint prevention and control.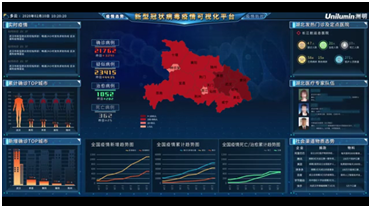 UI of Unilumin's Epidemic Prevention & Control Visualization System
Smart Streetlight Human Body Temperature Measurement System
Facing the severe situation of epidemic prevention and control, Unilumin has also launched the Smart Streetlight Human Body Temperature Measurement System, a customized solutionfor epidemic prevention and control. Featuring long-distance examination, non-contact, large-area, multi-target and rapid-screening, this high-tech system can effectively solve problems resulted from the shortage of medical personnel, low efficiency of manual temperature measurement, and virus transmission.
The System combines visible light and infrared light as sensing technologies to identify suspected fevered people with their body temperature exceeding the threshold from the crowd, target them with alerts and face capture, and send the detailed information to the commanding center immediately, thus providing big data support for epidemic prevention and control departments to take action accordingly.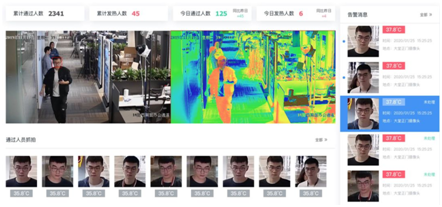 UI of Unilumin's Smart Streetlight Human Body Temperature Measurement System
Having developed such customized products or systems, Unilumin has been quick and successful in response to giving its support to the world's epidemic prevention and control. These moves come not just because Unilumin has attached much importance to R&D innovation and accumulated profound R&D strength, but also because Unilumin has a good sense of social responsibility.
The development and application of Unilumin's several customized products about epidemic prevention and control this time have again proved Unilumin's innovation power and product reliability and laid a foundation for its further development in the field of smart medical care.